AnnieMak Restore Vitamin C Serum B2G1
Industry Leading 26% Vitamin C With Hyaluronic Acid and Organic Vitamin E Clinically Proven to Repair and Tighten Skin and Reduce Wrinkles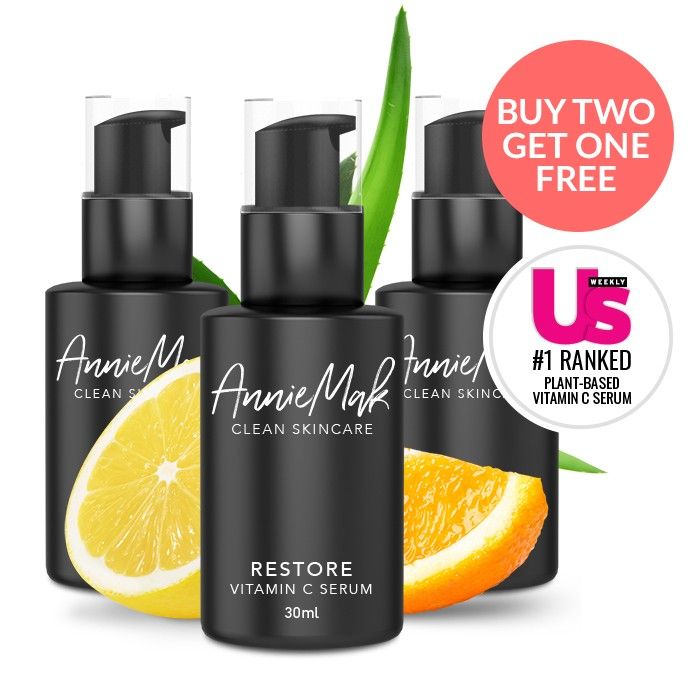 $139.90
You save:

$99.95

(

42%

)
15%+ Savings on all Subscriptions
Free Shipping on Orders over $99
1-Year Money-Back Guarantee
BENEFITS
This is the default template
PRODUCT SPECS
This is the default template
Product Overview
This is the default template
How to Use

Daily Use
This is the default template

Advanced Use
This is the default template

Pairs Well With
This is the default template
This is the default template

3rd-Party Tested
& Verified
AnnieMak pays to have all our products tested by NSF (an internationally recognized leader in independent product testing) and other highly reputable third-party testing labels. These third-party laboratories test for glyphosate (the active ingredient in Roundup), GMOs, pesticides, herbicides, insecticides, and heavy metals. We're proud to be one of the few (if not the only) skincare companies to openly and honestly share all of the test results on our website.
This is the default template
Why AnnieMak?
The majority of skincare products on the market are made with toxic chemicals and harsh filler ingredients that have the potential to damage your sensitive skin cells. At AnnieMak, we're proud to offer the absolute best, safest, and cleanest skincare products to help protect and enhance your skin's natural radiance. Our products are made with non-GMO ingredients, made by mother nature to help your skin look and feel years younger... naturally!
We believe in doing things differently. While most skincare companies spend the majority of their money on advertising, we spend ours on the highest-quality, clean, and non-GMO ingredients available - organic, whenever possible. In fact, we spend on average 400% (4 times) more to manufacture our products. In the end, you get exactly what you pay for – the best skincare products on the market.
Our skincare products contain unique, patented formulas, proven in evidence-based lab studies to help protect your skin at the foundational level. These safe, non-toxic, and innovative formulations work synergistically with our naturally healing ingredients to help give you smoother, healthier-looking skin, no matter what your age.
Since there are really no agencies or regulators looking over the shoulder of the skincare industry, it can be hard, even impossible to know who to trust. Left to police themselves, many companies cut corners to boost their bottom line. But we are committed to providing customers third-party tested, truly clean products for a difference they can feel on their skin. It's a harder, more difficult, and much more expensive process to source clean ingredients... but we think your skin is worth it!
All our products are manufactured in the U.S.A. at an FDA-registered, CGMP-compliant facility. The vast majority of the individual ingredients that we use in our skincare products are grown in and sourced right here in the U.S. The few ingredients sourced from other countries are indigenous to those regions, with ZERO of our ingredients being sourced from China.
Thousands of health-conscious customers like you use and trust AnnieMak products as a part of their daily skincare routine. We've received hundreds of 5-Star reviews and also receive a LOT of overjoyed feedback from folks sharing how pleased they are to finally find a skincare company 100% committed to using the purest, non-GMO, and healthy ingredients. Be sure to read our verified customer reviews for
Free Shipping
U.S. orders over $99/CAN , Canada over $149, Worldwide over $199
1-year Money-back Guarantee